How to add a Google Chrome WebStore Shortcut to AccountingSuite in your Browser
Google Chrome Extension
---
We have our application in the Google WebStore and you can add it to Chrome so you have shortcut at your fingertips. Simply click this link to go the Chrome Webstore (using Chrome, of course) and click "Add to Chrome".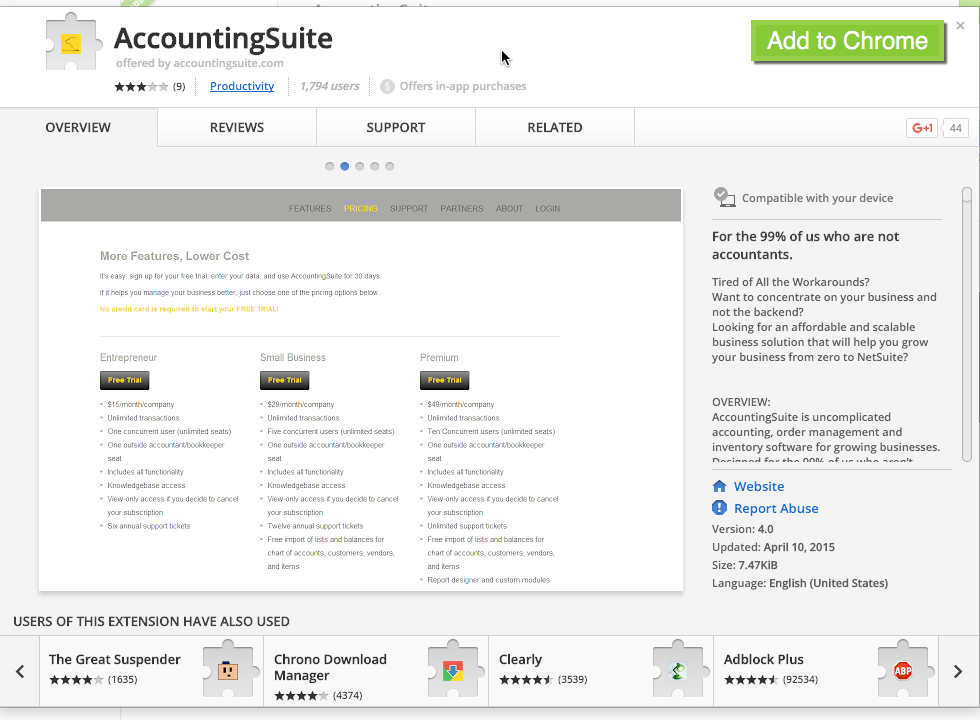 Related Articles

Recommended Zaps: New Salesperson from Google Spreadsheet Row

Sometimes the people who hire new salespeople may not have access to AccountingSuite™. With a simple row in a spreadsheet, the magic begins. Google Sheets is one of the most popular and easy ways to manage a spreadsheet. With this Zap, as you add new ...

Logging in and out of AccountingSuite™

Logging in to AccountingSuite™ There are two methods of logging in, Method 1: Access the login screen: https://login.accountingsuite.com. Type in your Username (email address) and your Password. Click Login. - OR - Method 2: Access the login ...

Overview - Welcome to AccountingSuite™

Powerful software for you growing business! AccountingSuite™ is a powerful all-in-one cloud based business software that includes accounting, inventory, order management, Cloud Banking, time and project tracking and full ECommerce solution. Our ...

Enable Pop-up Windows

Recommended Browsers Choose your browser for specific instructions on controlling pop-up windows. Please note: These links navigate to sites outside of the AccountingSuite™ Knowledgebase. Google Chrome • Enable pop-up windows in Chrome Mozilla ...

I removed your extension from my browser, but it keeps coming back. What gives?

Our extension is a shortcut to our login page, nothing more. We have not done anything to cause our extension to reappear after it's removed. What is happening is most likely due to a corrupt sync file within Google Chrome Sync. Google Chrome Sync ...