Inventory KPI Dashboard (extension)
Overview
The Inventory KPI Dashboard gives you a graphical representation of the health of your company's inventory. This dashboard can help to effectively control inventory and improve the efficiency and profitability of your company.

Include in the dashboard are the following.

Inventory Turnover Rate - calculates the turnover rate for a specific period. (1)

Days to Sell - displays length of time to convert inventory into sales. (2)

Inventory Valuation - shows the profit and value of goods in inventory during a specific time period. (3)

Stock Status - monitor the stock status to ensure the right stock level exists in your inventory - never too much and never too little! (4)

Installation
Usage

Launch the dashboard by navigating to Inventory / Tools / Extensions.

When the pop-up appears, choose Inventory KPI Dashboard and click Execute.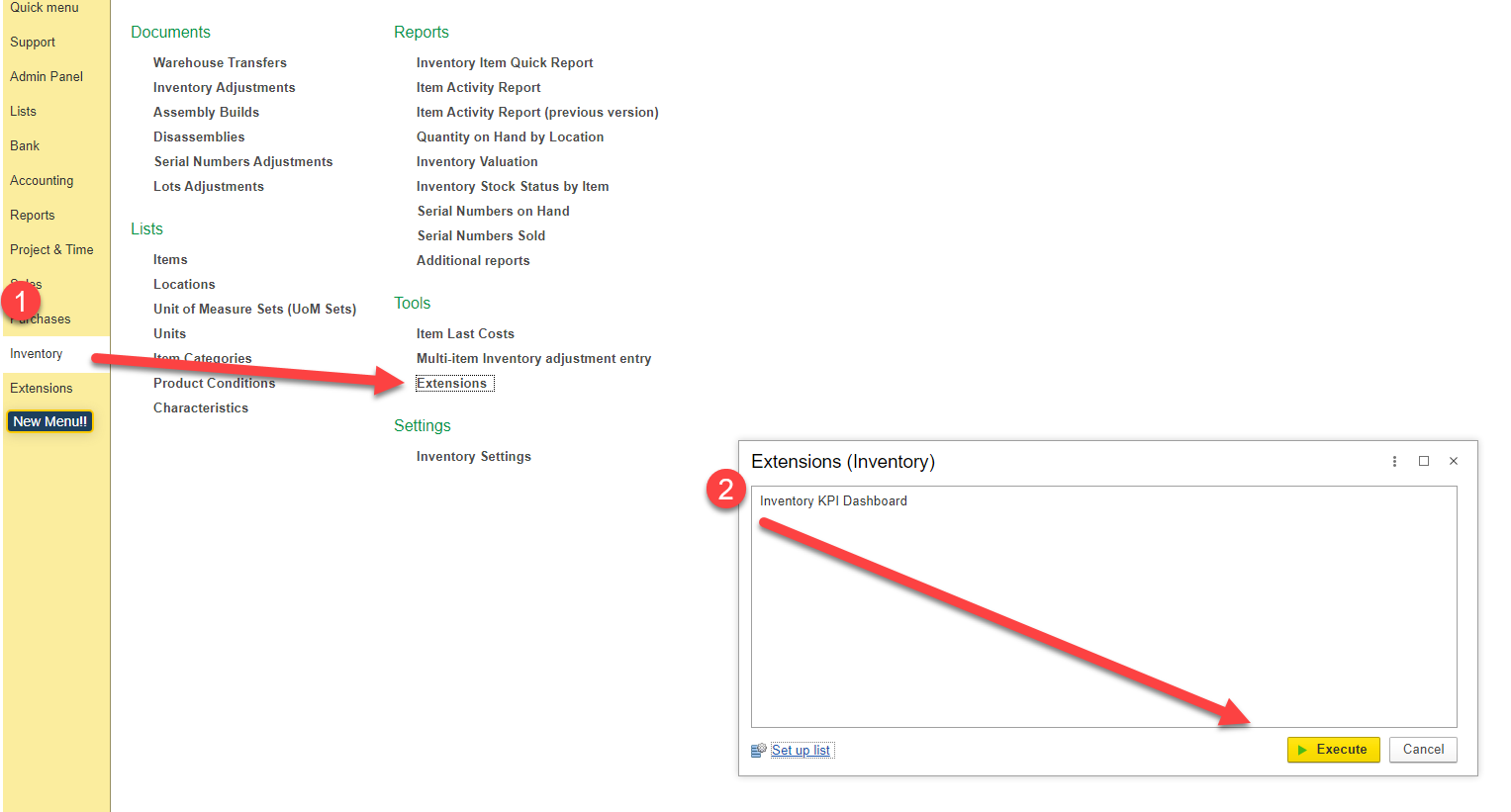 You may double-click on a part of the chart to drill down to a report of the data displayed
.

Tip: Click Settings next to the 1 above to set this extension to autos-start on launch to have it automatically open.
There are 4 graphs/charts to view on the dashboard and they can be further customized to meet your needs:

Inventory Turnover Rate

Inventory Valuation

Days Sales of Inventory

On Hand / Under Stock / Out of Stock Position

These charts can be customized using the following controls:

Change the data range for Inventory Turnover Rate Chart

Change the date range and reporting dimension for Inventory Valuation Chart (Dimension allows you to report by location, category, etc).

Change the date range for Days Sales of Inventory Chart

Change reporting dimension and date range for Stock Positions Chart.
Related Articles

Managing Extensions

Installing Extensions To install an extension, Click the Extensions menu item in the main menu Click Extensions Catalog. Double click the extension you wish to install. In the pop-up window, click install. Usage instructions are included in the ...

Auto Purchase Orders (extension)

Introduction Use predictive AI to automate purchase order workflow to ensure you are never out of stock. Automation leads to more efficient warehouse management, fulfillment operations, and in the end to better customer experience. The Automated ...

Multi-currency Balance Sheet Report (extension)

Introduction Now available with multiple currencies, AccountingSuite™'s Balance Sheet report gives business owners the ability to manage the company's assets, liabilities and shareholders equity in the default or target currencies. Installation ...

Gross Margin Report (extension)

Overview The Gross Margin Report looks at the percentage and profit margin based solely on sales and the cost of producing those sales. For financial reporting, it gives you a picture of how much revenue is left after deducting all the direct costs ...

Multi-currency A/R Aging Report (extension)

Introduction Now available with multiple currencies, AccountingSuite™'s standard A/P Aging Report helps business owners manage the payables process by allowing them to switch between their default and target currencies. Installation Please see this ...