Subscribing to AccountingSuite when the trial period is over
Subscribing to AccoutingSuite



---
Once the trial period is over, you can subscribe to AccountingSuite using the
Pay Now
button located on the Dashboard that displays once you login.
On the line in the table that lists the company you're subscribing to, click the

Pay Now

button.

Enter your credit card information and billing Information

.




Log out

of AccountingSuite and the Dashboard.




Log back in

and your subscription will be

Active

.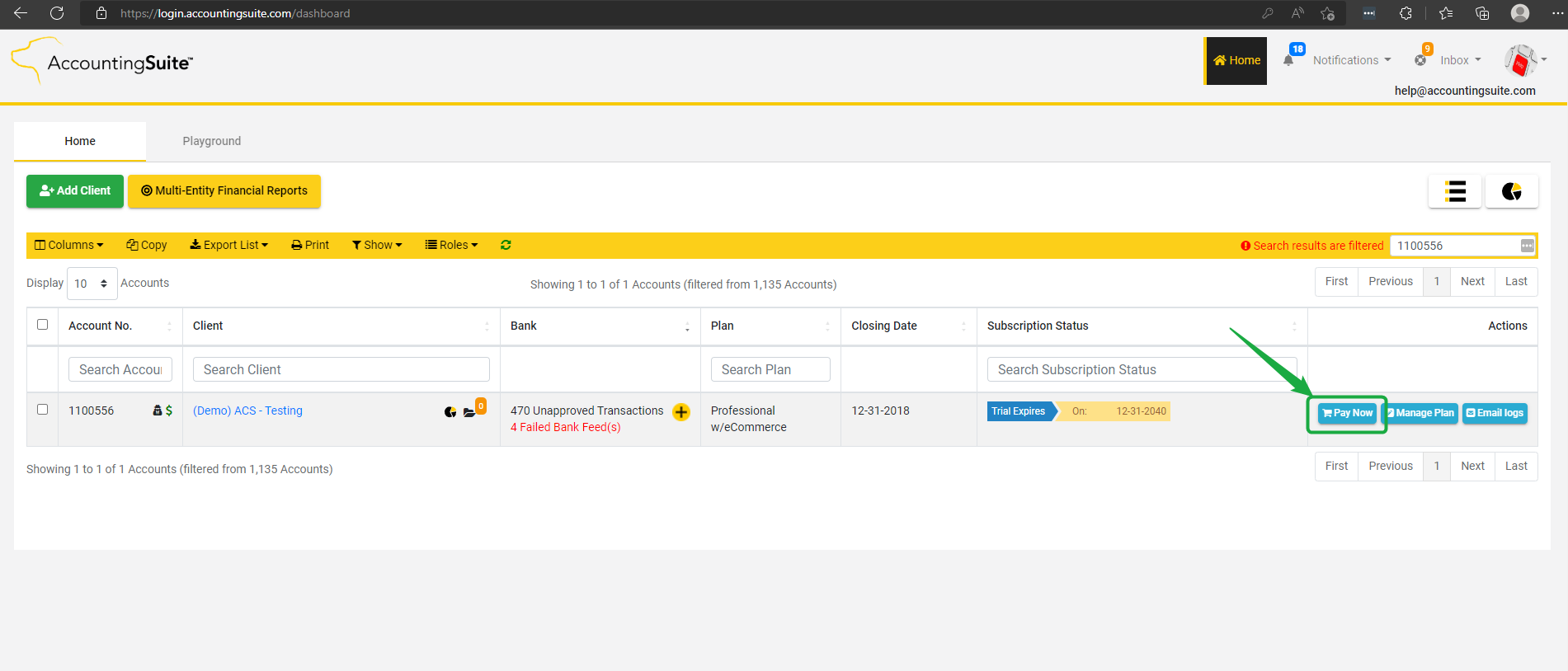 The Pay Now button to subscribe to AccountingSuite
Related Articles

What limitations are there on the Free Trial?

The free trial is a fully functioning version of the software and does not have any limitations. The trial lasts for 30 days and after this time, no additional transactions will be able to be saved until you choose a plan and subscribe. None of the ...

Overview - The AccountingSuite™ Dashboard

The Dashboard The AccountingSuite™ Dashboard (1) Company Name - This is the name as it is shown in the application under Settings → Company Info tab. Changing the information in the application will change the display here. This is a hyperlink that ...

Can I try your software out before I buy?

Of course! You wouldn't buy a car before you test drove it would you? We offer a fully functional free trial for our potential new customers. Will this free trial comes support and when you decided to subscribe to our software our on-boarding ...

Overview - Welcome to AccountingSuite™

Powerful software for you growing business! AccountingSuite™ is a powerful all-in-one cloud based business software that includes accounting, inventory, order management, Cloud Banking, time and project tracking and full ECommerce solution. Our ...

Logging in and out of AccountingSuite™

Logging in to AccountingSuite™ There are two methods of logging in, Method 1: Access the login screen: https://login.accountingsuite.com. Type in your Username (email address) and your Password. Click Login. - OR - Method 2: Access the login ...