The AccountingSuite™ Portal
The Portal



---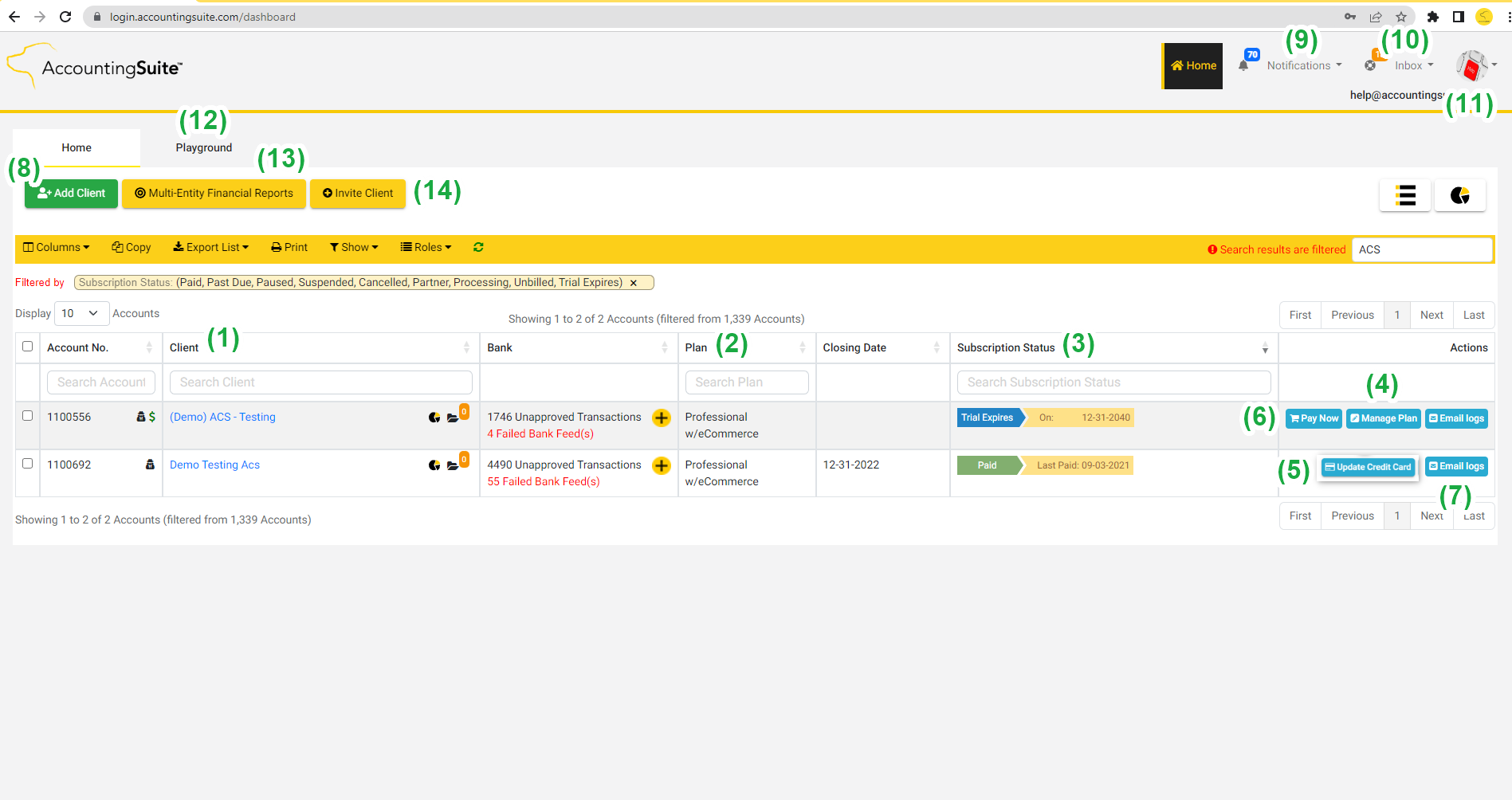 The AccountingSuite™ Portal
(1)
Client/Company Name
- This is the name as it is shown in the application under
Admin Panel → Company Info
tab. Changing the information in the application will change the display here. This is a hyperlink that will open that Company in the
AccountingSuite™
application.
(2)
Plan
- The Active subscription plan.
(3)
Manage Plan
- Click this button to choose a new plan (upgrade or downgrade).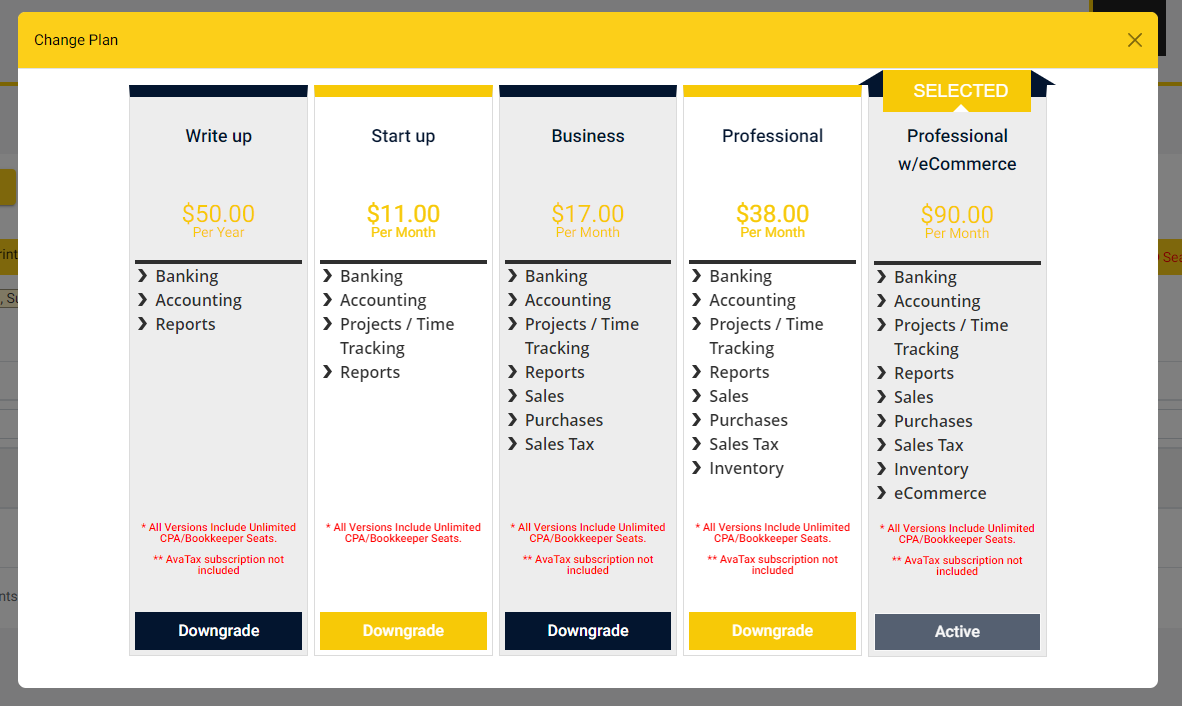 (4)
Subscription Status
- If current, a green Paid flag will show. If the payment is past due, the flag will be red. If this is a trial company, the flag is blue.
(5)
Upgrade Credit Card
- Use this button to change the payment method for this company.
(6)
Pay Now
-
You can use this button to subscribe to
AccountingSuite™
once the free trial period is over.
(7)
Email Logs
-
To view the status of all emails that have been sent through
AccountingSuite™
.
(8)
Add Client
- Click to add a new Company/Client to your account.
(9)
Notification
-
This is where you will find the notifications such as if someone adds you an accountant or adds you as a user to AccountingSuite different client. You will also receive other notification within the product.
(10)
Inbox
- This is
where you will receive important communications from
AccountingSuite™
that require action on your part.
(11)
Account/Profile
- This is where you can manage your account which
links to your Subscription portal where you can view and download invoices and statements for your
AccountingSuite™
services,
manage your profile and l
inks to Help and Support.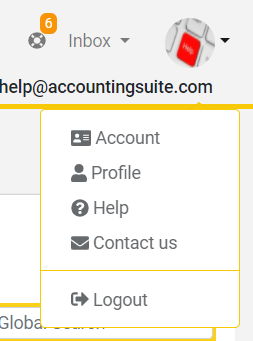 (12)
Playground
-
This is where you can play around with AccountingSuite.

(13)
Multi-Entity Financial Reports
- Y
ou can run Income Statement and Balance Sheet Reports for more than one AccountingSuite™ Account. Reports will show a column for each company and an additional column with the sum of the totals.
(14)
Invite Client
(for AccountingSuite™ Partners)- Use this button to invite clients.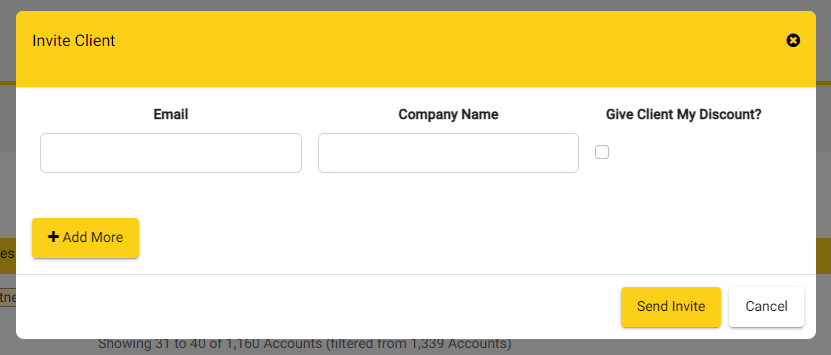 Profile Settings



---
Profile & Password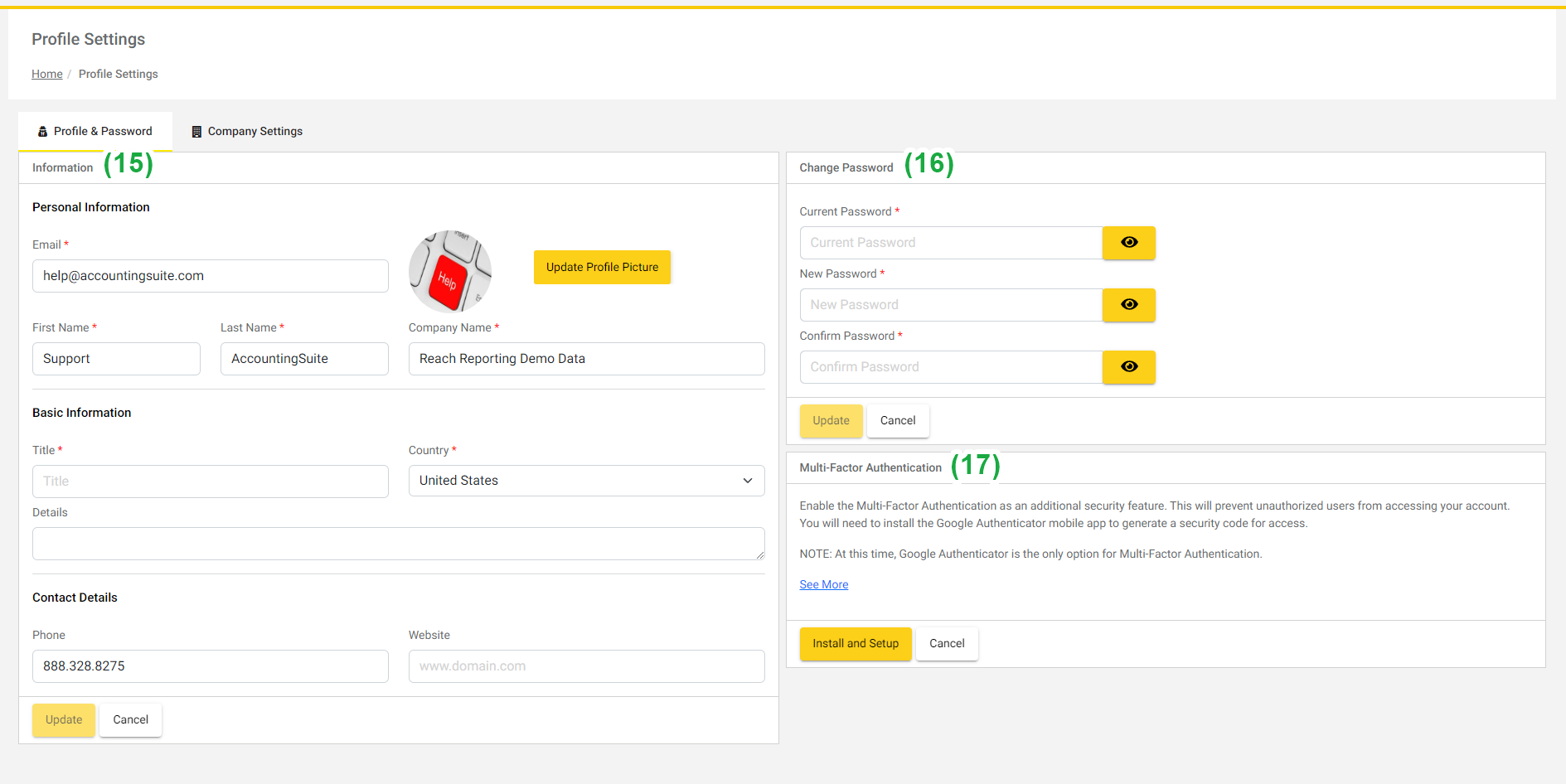 (15)
Information
-
Update your contact information and details, upload a picture.

(16)
Change your password.
(17)
Multi-Factor Authentication
is an additional security feature that will prevent unauthorized users from accessing your account.
Related Articles

Your AccountingSuite Subscription

Your Billing Day (single subscriptions) Your billing day is the day of the month that you subscribed to your first subscription. If you are not happy with this day, please call us at 888 328 8275 and request that they day be changed. When you are ...

Your Account

Changing your plan To change your plan, click the Change Plan button in the dashboard. The Change Plan button on the Dashboard screen. Updating your credit card details Follow these instructions to update the details for the credit card that is used ...

Hey! I Paid Now but my Pay Now button is still showing. Did my payment go through?

Not to worry! Once you have made your payment, please LOG OUT of the Dashboard and log back in to see a refreshed payment status. Refresh yourself! Be sure to log out of AccountingSuite AND your Dashboard to ensure you are seeing the latest.

Subscribing to AccountingSuite when the trial period is over

Subscribing to AccoutingSuite Once the trial period is over, you can subscribe to AccountingSuite using the Pay Now button located on the Dashboard that displays once you login. To subscribe: On the line in the table that lists the company you're ...

Paya: Adding a Credit Card or ACH account to Customer Account.

Paya: Adding a Credit Card or ACH account to Customer Account. Navigate to Quick Menu / Companies. Open the Company that you'd like add the credit card to. Click the Payment Methods tab. Choose Add and pick Credit Card or ACH Account. Fill out the ...