The New AccountingSuite™ Document Footer
We've redesigned the document footer so that it's consistent across documents where totals are shown. It includes:

Information that you'd expect to see in an easy to read format.

Line total - Discounts = Subtotal + Shipping + Sales tax = Total. See the labels in the screenshot below for location.

The ability to collapse the section to make more room to see the line items. See the collapsed view in the second screenshot!

The screenshot is from the footer on the invoice. Keep in mind that some of these elements aren't included in every document - Sales tax, for example.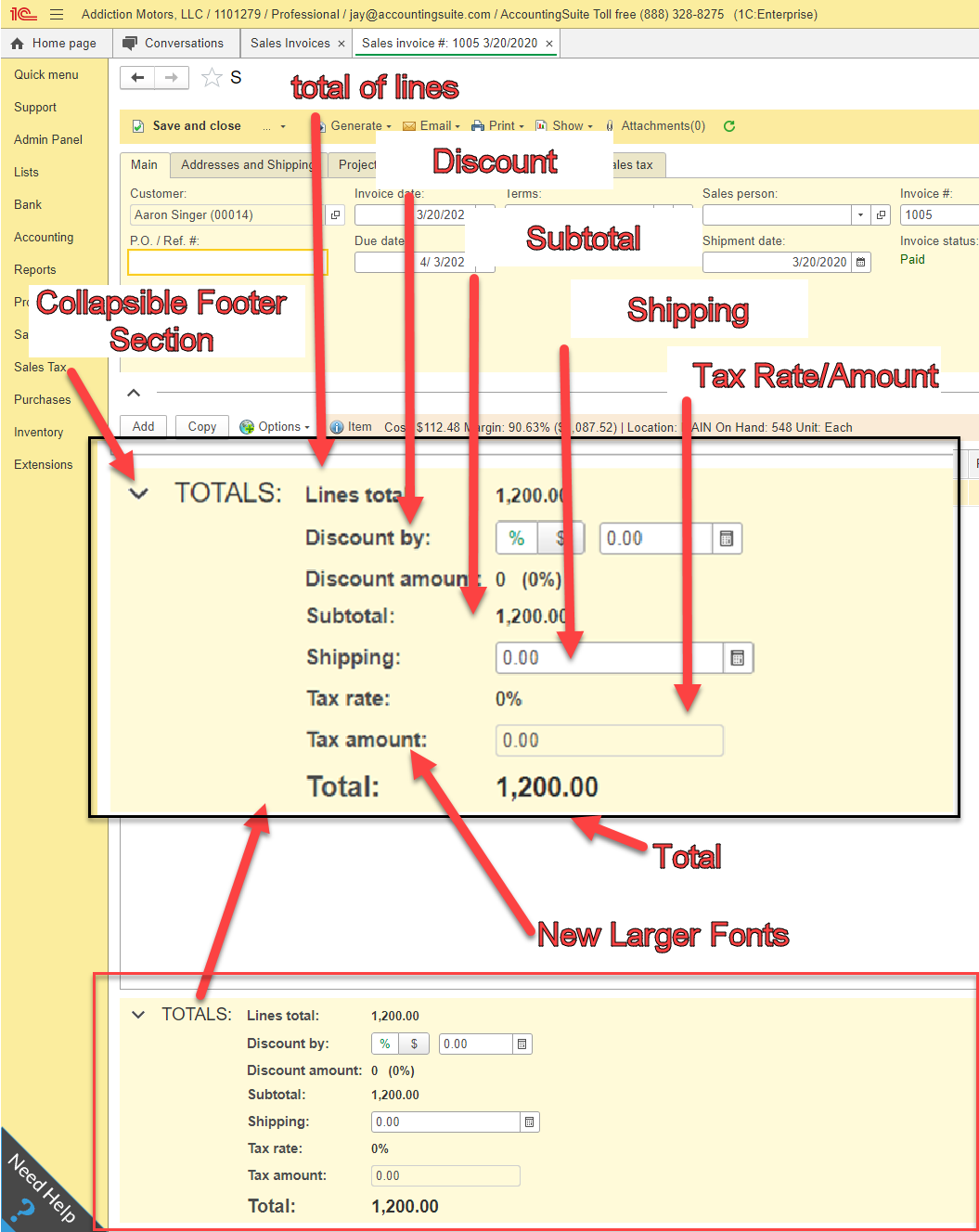 Related Articles

AccountingSuite™ Release Updates, German Shepherd 9

AccountingSuite™ Release Updates, German Shepherd 9 Improved Menus and Documents Footers! All AccountingSuite™ Menus are redesigned and organized for better work flows, and are Edition based with clear and focused UX/UI! Side Menu with key/all user ...

Recommended Zaps: New AccountingSuite Customer from New Facebook Lead Ad

Facebook is only profitable social media platform because its ads deliver the best ROIs compared to their peers. With this Zap, new leads collected from your Facebook Ads will automatically be created as new Customers in AccountingSuite. How ...

Recommended Zaps: New Product in AccountingSuite from Hot Product in Product Hunt

Product Hunt searches for the best new products, and with this Zap, your AccountingSuite will include these products too! Your business will be ready to purchase or sell the latest exciting products. This Zap triggers when Product Hunt considers a ...

Overview - Welcome to AccountingSuite™

Powerful software for you growing business! AccountingSuite™ is a powerful all-in-one cloud based business software that includes accounting, inventory, order management, Cloud Banking, time and project tracking and full ECommerce solution. Our ...

Recommended Zaps: New Service Item in AccountingSuite from a new Jira Project

Many companies create a project in their development queue around a new service that they are offering Jira is one of the most popular tools for development teams today for bug tracking and project management, and this Zap takes new projects in JIRA ...